---
Land Art Generator Initiative 2014 Design Competition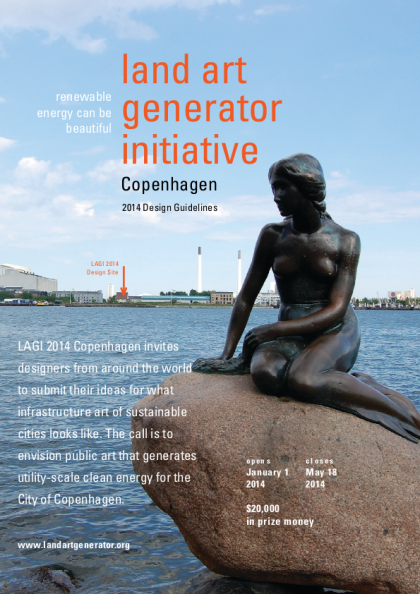 dead-line регистрации: 18.05.2014
dead-line подачи проектов: 18.05.2014
тема: Дизайн
страна: Дания
город: Копенгаген
открыт для: всех
регистрационный взнос: нет
награда: 1-е место – $15 000 + поездка в Копенгаген на церемонию награждения; 2-е место – $5 000

жюри:
Connie Hedegaard
Martin Lidegaard
Tina Saaby
Lars Aagaard
Jason F. McLennan
Stig L. Andersson
Nille Juul-Sørensen
Kent Martinussen
Christian Herskind
Steen Christiansen
Else Marie Bukdahl, Dr. Phil
Agnete Fog
Sharon Chang
Chris Fremantle
Michael Singer

организатор:
Land Art Generator Initiative,
Refshaleøen Holding

контакты: lagi@landartgenerator.org
Официальный сайт конкурса: http://landartgenerator.org/designcomp/


Цель проекта Land Art Generator Initiative – создание арт-инсталляций, которые являются также генераторами «чистой» энергии, преобразующими природную энергию (ветра, солнца, воды) в электрическую.

Конкурс проходит раз в два года и в 2014 участникам предстоит разработать проект в Рефхалеёэне – одном из районов Копенгагена. Работы конкурсантов должны представлять собой функциональные (то есть производящие энергию), безопасные для человека и окружающей среды произведения в духе лэнд-арт.

пресс-релиз:
The 2014 Land Art Generator Initiative calls on artists and designers to submit proposals for a pragmatic art installation for the design site at Refshaleøen, located across the water from the iconic Little Mermaid Statue.

A qualified entry to the LAGI 2014 design competition must fulfill the following criteria:

Consist of a three dimensional sculptural form that has the ability to stimulate and challenge the mind of visitors to the site.
Capture energy from nature, convert it into electricity, and have the ability to store, and/or transform and transmit the electrical power to a grid connection point to be designed by others.
Not create greenhouse gas emissions and not pollute its surroundings.
Be pragmatic and constructible and employ technology that can be scalable and tested.
Be well informed by a thorough understanding of the history, geography, details of the design site, and the broader contexts of Refshaleøen, Copenhagen, and Denmark.
Be safe to people who would view it.
Be designed specifically to the constraints of the design site at Refshaleøen as shown in the Location Plan.
Designs must not exceed 125 meters in height.
Entries must be in English and metric scale.